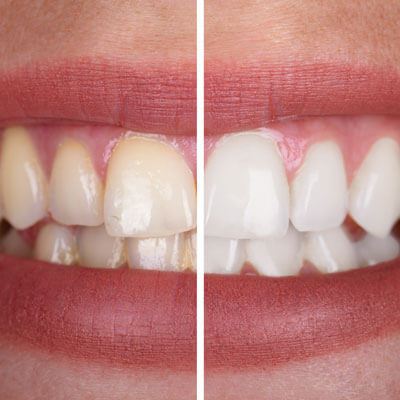 Teeth Whitening in Lower Plenty
St George's Dental offers safe, effective professional teeth whitening to help your smile look its best. Depending on your preferences and natural tooth colour, Dr Eva Tossoun (Dentist) may recommend our in-chair treatment, a custom take-home kit or a disposable application system. All three offer great results.
Same-Day (In-Chair) Whitening
Prefer to have white teeth as quickly as possible? In-office whitening only takes about 90 minutes to complete. The professional-grade whitening gel is activated with a special light to oxidise stain particles at their source. We'll measure your tooth shade before and after so you can see how dazzling the results are.
Take-Home Whitening Trays
Custom moulded whitening trays keep your bleaching gel against curved tooth surfaces for maximum and even results. We use PolaNight and PolaDay whitening gel, giving you the option of wearing your trays for one hour a day or sleeping in them overnight. See full results in about two weeks and top off after your checkups to keep teeth white.
Disposable Whitening Kits
People with milder tooth discoloration tend to do well with removable applicator kits like strips or pre-filled trays. We can recommend the best system for your concerns and expectations.
Frequently Asked Questions
How do I keep my smile white after treatment?
Be sure to avoid any dark liquids or foods that would stain white fabric. For example, don't drink red wine or soda immediately after bleaching. We recommend topping off after each scale and clean or more often if needed.
How long does it take to see results?
Depending on the type of whitening treatment you choose, results may be visible the same day or take up to two weeks.
Do I qualify for teeth whitening?
We will need to evaluate your teeth first, to make sure your smile is free of active tooth decay and gum disease. Additionally, it's important to know that any visible dental work at the front of your smile will not respond to bleaching gel.
It's Time for Whiter Teeth
Contact us today to find out which teeth whitening system is right for you.

Teeth Whitening Lower Plenty, Montmorency, Greensborough, Viewbank VIC | (03) 9432 5400