New Patients at St George's Dental
Your First Visit With Us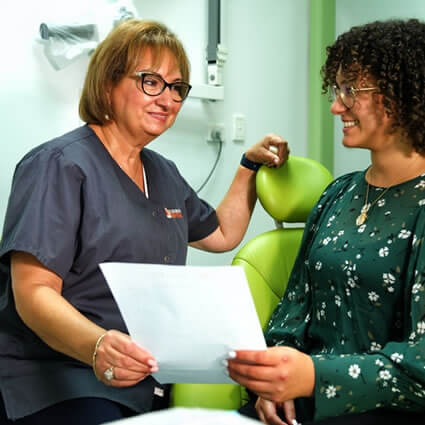 New patients will enjoy an appointment tailored to their needs. Whether you're here for a routine checkup or have a serious concern, we set aside time to meet with you one-on-one and answer any questions you may have. When you contact us to schedule, please let us know your priorities.
Education Is Key
We believe that the more you understand what's going on inside your mouth, the more comfortable you feel about your choice of care. Patient education is important to us and helps improve your access to quality dental treatments.
Your Exam and Oral Evaluation
Every new patient will receive a comprehensive tooth-by-tooth exam to assess their oral health. We'll also have a set of paperwork to complete when you arrive, so that we can thoroughly review your medical history and past dental experiences.
We typically set aside an hour for your new patient exam, allowing us to take any required digital X-rays, an OPG, perform your exam, and have plenty of time to discuss our findings with you. We believe the better informed you are about your oral health, the more comfortable you'll feel about your smile's care.
Should you need any treatment, we will discuss our recommendations with you in detail, and then schedule a time for you to return for those procedures.
If time allows, you can see our hygienist for a scale and clean, as well as a periodontal evaluation. Otherwise, we'll reserve a separate appointment to have your teeth cleaned and polished.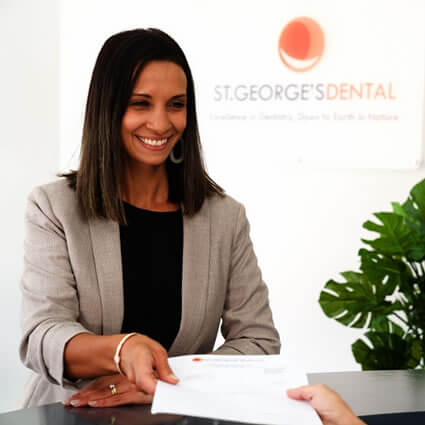 We're In-Network
Our dentists are preferred providers for Medibank, BUPA and HCF. With affordable pricing and modest gaps, we make quality care accessible for everyone. The Child Dental Benefits Scheme (CDBS) is also gladly accepted.
Flexible Financing Available
Enjoy no-interest payment plans on the care you need. Whether you're planning to get a smile makeover, dental implants or something else, our monthly financing option fits your budget.
Schedule Today
With flexible scheduling six days a week, it's easier than ever to enjoy a healthy smile.
Contact us today to make your first appointment.
CONTACT US

New Patients at St George's Dental | (03) 9432 5400