Meet Dr Eva Tossoun (Dentist)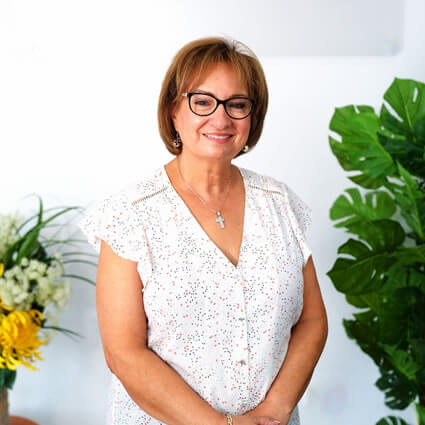 Dr Eva has practiced family dentistry for over 30 years. Prior to coming to Australia in 1994, she practiced in Egypt for almost 10 years. In addition to being an honours graduate of the University of Cairo, she also received qualifications from the Australian Dental Council.
Her Approach to Care
Dr Eva finds professional satisfaction in seeing how her abilities help transform the lives of her patients. When others enjoy a beautiful, healthy smile in a pain-free setting, it's truly one of the most rewarding experiences she can achieve as a dentist.
She and her late husband began our family practice in 1999, and now Dr Eva continues to pursue community-based care with her personally selected team of dental professionals. As a source for comprehensive family dentistry, our practice places a special interest in whole-body wellness, particularly in the oral and systemic health connection.
EXPLORE OUR SERVICES

Bettering Oral Health in Our Community
With experience in both private dental health and hospital community clinics, Dr Eva served as the appointed Manager of the Plenty Valley Community Centre because of her dedication towards prevention-based care. She continues to live out that mission for our patients every day.
Advancement in Cosmetic Dentistry
As an active member of the Australian Dental Association (ADA) Dr Eva continuously advances her knowledge and skills through ongoing education opportunities. Her passion for cosmetic dentistry techniques and continual studies allows us to better serve the unique aesthetic needs of our clients.
Outside of the Practice
Dr Eva is the proud mother of four and a grandmother, too! She enjoys spending time with her family, especially when cooking is involved. In her spare time, she volunteers with a Coptic charity, serving underprivileged communities throughout Australia and Egypt.

Dr Eva Tossoun (Dentist) | (03) 9432 5400